Twitter (TWTR) Leading off our list is social media giant Twitter, which Goldman initiated with a sell rating on Wednesday.
Along with the bearish stance, Goldman analyst Eric Sheridan planted a price target of $60 on the shares, almost exactly where they sit today.
Sheridan has a generally positive view of the entire U.S. internet sector, suggesting that it still has plenty of room for long-term growth and operating efficiency improvement.
But in the case of Twitter, the analyst thinks its valuation is stretched and that the company's innovation is largely a "show me story."
Specifically, Sheridan isn't entirely convinced that Twitter will be able to appeal to a wider audience base over time or capitalize on the more niche monetization opportunities that its current audience base presents.
In that sense, Sheridan feels that Twitter is more of a publishing platform than a social media platform like Facebook or Snap, which he both recommends as a buy.
Twitter shares slumped as much as 5% on Monday in response to Sheridan's view.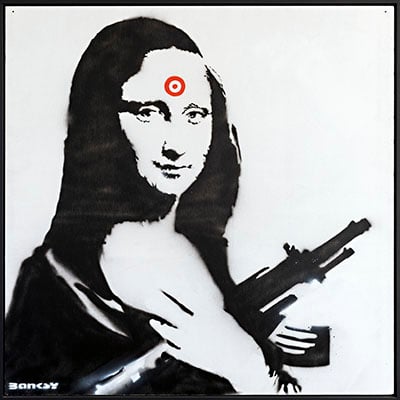 Join Masterworks to invest in works by Banksy, Picasso, Kaws, and more. Use our special link to skip the waitlist and join an exclusive community of art investors.
Skip waitlist
Airbnb (ABNB) Next up, we have vacation rental leader Airbnb, which Sheridan also initiated with a sell rating yesterday. The analyst placed a price target of $132 on the stock, representing about 20% worth of downside from where it sits now.
Sheridan had some good things to say about Airbnb, calling the company a market leader in the space with attractive growth and margin expansion opportunities ahead of it.
In fact, the analyst expects compound annual revenue growth of 21% over the next five years and an adjusted profit margin of 32% in 2026. So for growth oriented investors, Airbnb might be worth purchasing using just your spare change.
But at the current valuation, Sheridan thinks Airbnb's risk/reward tradeoff tilts negative due to the volatile travel environment going forward, a mature end market, and increasingly intense competition.
Airbnb shares quickly plunged 5% on Monday morning after Sheridan's bearish call, but have largely recovered since.
Go your own way
There you have it: two popular tech stocks that Goldman Sachs recommends you sell today.
Instead of volatile high-profile Internet stocks, risk-averse investors might want to stick with more stable, inflation-proof assets instead.
One steady asset that billionaires like Bill Gates and Warren Buffett are partial to is investing in U.S. farmland.
In fact, Gates is America's biggest owner of farmland and for good reason: Over the years, agriculture has been shown to offer higher risk-adjusted returns than both stocks and real estate.
Sponsored
Fine art as an investment
Stocks can be volatile, cryptos make big swings to either side, and even gold is not immune to the market's ups and downs.
That's why if you are looking for the ultimate hedge, it could be worthwhile to check out a real, but overlooked asset: fine art.
Contemporary artwork has outperformed the S&P 500 by a commanding 174% over the past 25 years, according to the Citi Global Art Market chart.
And it's becoming a popular way to diversify because it's a real physical asset with little correlation to the stock market.
On a scale of -1 to +1, with 0 representing no link at all, Citi found the correlation between contemporary art and the S&P 500 was just 0.12 during the past 25 years.
Earlier this year, Bank of America investment chief Michael Harnett singled out artwork as a sharp way to outperform over the next decade — due largely to the asset's track record as an inflation hedge.
Investing in art by the likes of Banksy and Andy Warhol used to be an option only for the ultrarich. But with a new investing platform, you can invest in iconic artworks just like Jeff Bezos and Bill Gates do.