Smartsheet (SMAR)
This work-management platform helps companies implement, organize and automate their processes. Smartsheet says its application is used by more than 80% of Fortune 500 companies.
And business is growing. In the fiscal quarter ended April 30, revenue surged 44% year over year to $168.3 million, driven by a 44% increase in subscription revenue.
Notably, Smartsheet's dollar-based net retention rate was a solid 133%.
But the stock is far from being a hot commodity. Year to date, shares are down a painful 61%. That could give contrarian investors something to think about.
Last week, JPMorgan analyst Pinjalim Bora reiterated an "overweight" rating on Smartsheet. While Bora also lowered his price target from $80 to $58, the new target is still 96% above where the stock sits today.
More: ETFs vs Mutual Funds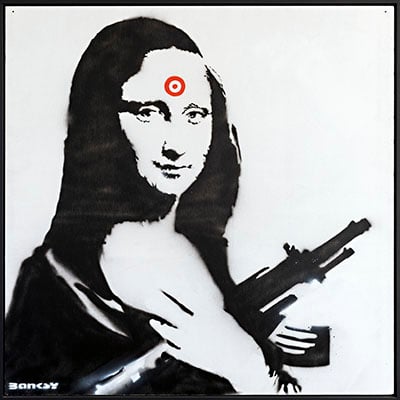 Join Masterworks to invest in works by Banksy, Picasso, Kaws, and more. Use our special link to skip the waitlist and join an exclusive community of art investors.
Skip waitlist
Microsoft (MSFT)
Tech stocks are getting dumped in this market downturn. Even mega-cap behemoths like Microsoft aren't immune to the bearish sentiment.
The stock has tumbled 26% in 2022.
But business remains on the right track. In the March quarter, Microsoft's revenue grew 18% year over year to $49.4 billion. Adjusted earnings came in at $2.22 per share, up 9% from the year-ago period.
The tech gorilla is also returning a massive amount of cash to investors. For the quarter, Microsoft's dividends and share buybacks totaled $12.4 billion, representing a 25% increase year over year.
JPMorgan analyst Mark Murphy recently raised his price target on Microsoft to $320 while maintaining a "buy" rating. That implies a potential upside of 30%.
Eli Lilly (LLY)
This American pharmaceutical giant commands more than $270 billion in market cap, with products marketed in 120 countries around the world.
Unlike the other two names on this list, Eli Lilly is not a beaten-down stock.
In Q1, Eli Lilly delivered 15% revenue growth, driven by a 20% growth in volume. The company paid nearly $900 million in dividends and spent $1.5 billion on buybacks during the quarter.
Shares are actually up 7% so far in 2022, and JPMorgan expects the trend to continue.
On June 1, analyst Chris Schott reiterated an "overweight" rating on Eli Lilly while raising his price target from $340 to $355.
Considering that shares trade at around $291 apiece right now, the new price target implies a potential upside of 22%.
Sponsored
Fine art as an investment
Stocks can be volatile, cryptos make big swings to either side, and even gold is not immune to the market's ups and downs.
That's why if you are looking for the ultimate hedge, it could be worthwhile to check out a real, but overlooked asset: fine art.
Contemporary artwork has outperformed the S&P 500 by a commanding 174% over the past 25 years, according to the Citi Global Art Market chart.
And it's becoming a popular way to diversify because it's a real physical asset with little correlation to the stock market.
On a scale of -1 to +1, with 0 representing no link at all, Citi found the correlation between contemporary art and the S&P 500 was just 0.12 during the past 25 years.
Earlier this year, Bank of America investment chief Michael Harnett singled out artwork as a sharp way to outperform over the next decade — due largely to the asset's track record as an inflation hedge.
Investing in art by the likes of Banksy and Andy Warhol used to be an option only for the ultrarich. But with a new investing platform, you can invest in iconic artworks just like Jeff Bezos and Bill Gates do.