As billionaire investor Warren Buffett points out, cryptocurrencies "don't reproduce, they can't mail you a check, they can't do anything, and what you hope is that somebody else comes along and pays you more money for them later on, but then that person's got the problem."
One economics professor recently commented that Bitcoin has less practical utility than tulips — and at least tulips don't devastate the environment with energy-sucking mining operations.
If you're looking for something more real — something that does generate income on a steady, reliable basis, something that's useful to humanity — consider investing in farmland.
How do you invest in farmland? Farmland produces something that every person on the planet needs: food. Its intrinsic value offers not only significant stability but also impressive growth potential.
"It's a real asset, it's tangible … it's the oldest type of asset there is," says David Perez, an Investment Associate at FarmTogether, an investment platform that allows qualified investors to purchase a stake in U.S. farmland without buying a whole farm.
The company pursues attractive properties, then partners with experienced local farmland operators who manage the land. The goal, FarmTogether says, is to give more investors a chance to buy into these attractive but previously inaccessible assets.
The full-service platform provides the information you need to directly invest in specific properties while FarmTogether takes care of the heavy lifting You can take a low-risk position and just purchase a cut of the land, or you can explore sole ownership if you prefer not to share in the long-term gains. Then, years down the line after the farm rises in value, you'll benefit from the appreciation of the land and profits from the sale.
Maybe you're happy to wait for a big payout from the sale of a California pistachio orchard, or maybe you prefer steady, immediate returns from an Illinois cornfield. You build your portfolio based on your own principles, and FarmTogether handles the details.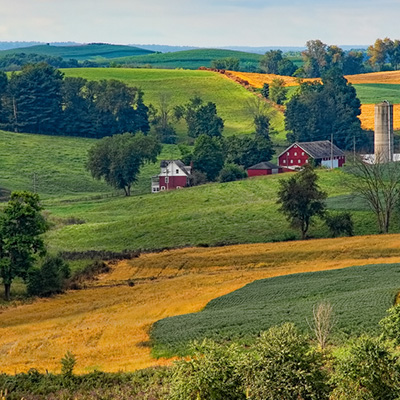 Farmland is one of the top asset classes capable of insulating your money from volatile market conditions. Learn how you can use FarmTogether to safeguard your portfolio.
Diversify now
What's the benefit of buying into farmland? As an investment, farmland offers a ton of advantages.
First and most importantly, it's a proven source of higher returns than you get from more traditional portfolios. Between 1991 and 2019, U.S. farmland delivered more than 11% in returns to its investors, according to FarmTogether's research.
That's better than traditional real estate, better than bonds and gold — it's even better than the stock market, which over the same period grew by 9.6%.
And whereas a traditional mix of stocks and bonds pays 8.15% in average annual returns, adding farmland to mix will jack that number up to 8.61%, FarmTogether says.
Farmland is also a shield against volatility; it's hard to find something more stable than the literal ground underfoot. Given the constant ups and downs in the stock market, Perez says it's good to have investments in assets that, while still subject to fluctuations, are "more insulated" from the turmoil.
Inflation? Farmland helps in that department, too. When consumer prices rise, the prices of commodities like food generally rise, too. That means the value of a portfolio with farmland is more likely to keep pace.
And of course, since farmland is genuinely useful and productive — not just some hypothetical store of value — you get to see the immediate benefits of that productivity. You can get a cut from both the leasing fees and crop sales, providing you with a cash income while the value of the asset increases.
Who can invest with FarmTogether?
With a minimum initial investment of $15,000, FarmTogether's offerings are primarily aimed at experienced investors looking to diversify their portfolios with alternative assets.
The platform is also restricted to accredited investors with the SEC, which recently updated the guidelines for that label.
"As an asset class, there have been barriers of entry for investors for farmland," Perez explains. And while FarmTogether is already opening that asset class up to a greater number of people, the company has plans in the future to expand its user base beyond accredited investors.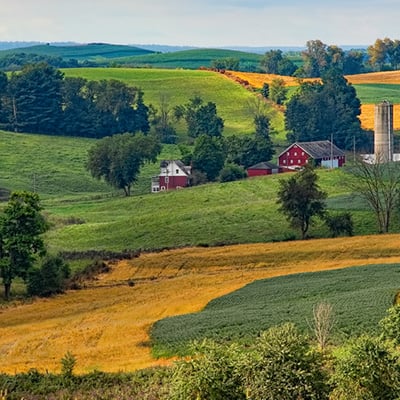 Farmland is one of the top asset classes capable of insulating your money from volatile market conditions. Learn how you can use FarmTogether to safeguard your portfolio.
Diversify now
Sow the seeds, reap the rewards If you're looking for something different to diversify your portfolio and boost your returns, remember that crypto's value is theoretical while its impact on the environment is very real.
By investing in farmland, you're supporting rural communities and putting your money into one of the most humble yet vital human endeavors.
To learn more, start by creating a free FarmTogether account. There's no obligation to invest, and you'll get a sampling of the kind of data investors can access, if not the full suite of tools and information.
While no investment is a sure thing, you can guarantee that regardless of what the economy is doing, people will always need to eat.
Sponsored
Fine art as an investment
Stocks can be volatile, cryptos make big swings to either side, and even gold is not immune to the market's ups and downs.
That's why if you are looking for the ultimate hedge, it could be worthwhile to check out a real, but overlooked asset: fine art.
Contemporary artwork has outperformed the S&P 500 by a commanding 174% over the past 25 years, according to the Citi Global Art Market chart.
And it's becoming a popular way to diversify because it's a real physical asset with little correlation to the stock market.
On a scale of -1 to +1, with 0 representing no link at all, Citi found the correlation between contemporary art and the S&P 500 was just 0.12 during the past 25 years.
Earlier this year, Bank of America investment chief Michael Harnett singled out artwork as a sharp way to outperform over the next decade — due largely to the asset's track record as an inflation hedge.
Investing in art by the likes of Banksy and Andy Warhol used to be an option only for the ultrarich. But with a new investing platform, you can invest in iconic artworks just like Jeff Bezos and Bill Gates do.