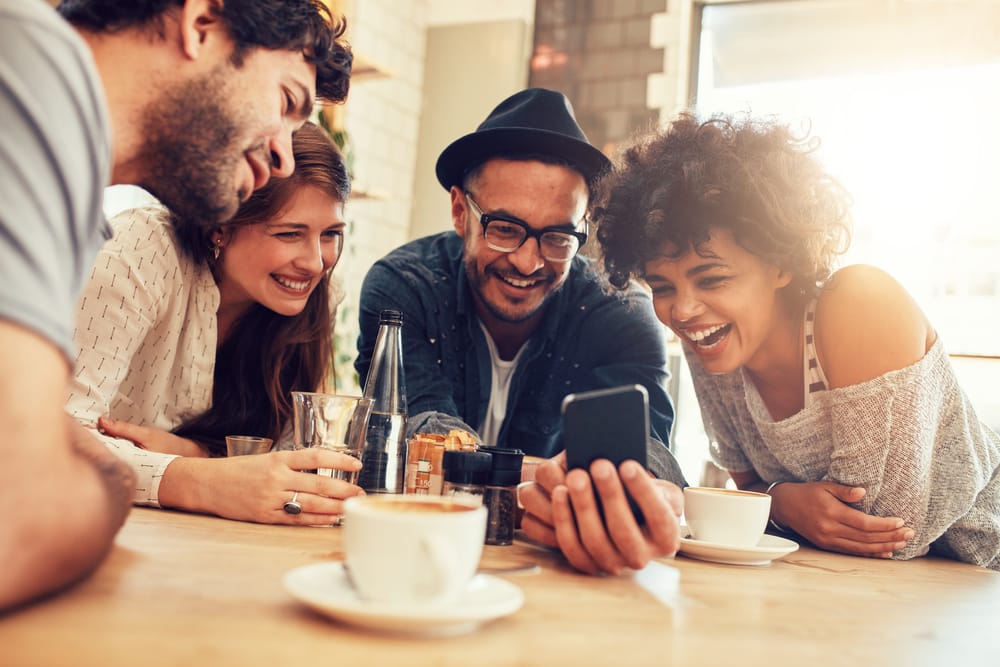 Why I recommend Coinbase to all my friends
Jacob Lund / Shutterstock
We adhere to strict standards of editorial integrity to help you make decisions with confidence. Please be aware that some (or all) products and services linked in this article are from our sponsors.
We adhere to strict standards of editorial integrity to help you make decisions with confidence. Please be aware that some (or all) products and services linked in this article are from our sponsors.
Content is for informational purposes and is not investment advice. Past performance is not indicative of future results. Investing in cryptocurrency comes with risk.
When I first heard about cryptocurrency at a family Christmas party, I, like most people, rolled my eyes and smiled politely at the dude-bro telling me that it was going to make him rich. I thought for sure that cryptocurrency would be a hit-and-miss in the investing world.
Oh, how I wish that I followed his lead and bought just a few bitcoins that December of 2013.
Instead, like many investors, I'm trying to play catch up and add (a little) crypto to my portfolio. That's where Coinbase comes in. While I'm not convinced that investing huge amounts of money into crypto is at all the correct investing move, Coinbase makes it so easy to learn about and invest in crypto that I couldn't help but give it a try.
The short version
Coinbase offers a powerful database of over 3,000 different cryptos for you to research, and 150+ to buy.
Through the Assets tab on Coinbase's app, investors can clearly see how their crypto is performing at any time.
Coinbase offers free crypto in exchange for learning about it through their Learning Rewards program.
Through Coinbase's news hub and newsletter, users can stay up to date on all the latest crypto news.
Crypto database lets me research over 3,000 different cryptos
One of my favorite features of Coinbase is its powerful database of over 3,000 different cryptocurrencies. It has become one of my favorite places to research future crypto investments and track what's happening in the market.
Related: Coinbase review
By navigating to the "Trade" tab in the app, you'll see a screen that starts listing many of the currently available cryptos, their current price, and whether or not that price has increased or decreased during the day.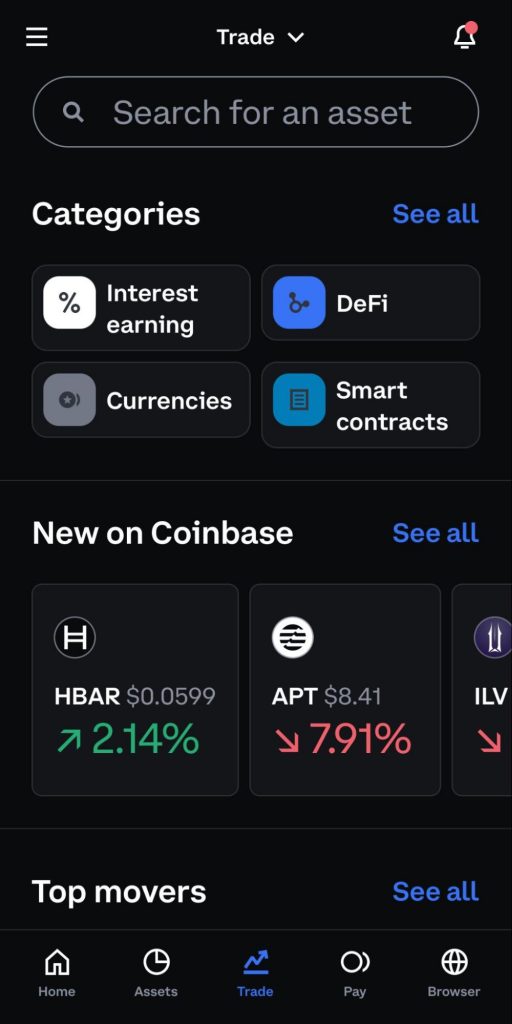 When you click on a specific crypto (I'll use Ethereum as an example), you get a whole explanation of the history of the coin as well as all its market states.
If you continue scrolling, it even shows all the latest news about the specific crypto. I may be a nerd, but looking up this information is interesting and keeps me on top of the ridiculous number of cryptos currently on the market. And since I'm not that nerdy, I do appreciate that they have a "Top movers" section under the trade tab that shows the crypto growing the fastest. Those are the ones I'm interested in anyway.
Start trading crypto with Coinbase
Coinbase Learning rewards has earned me most of my crypto
When I started investing in cryptocurrency, I was suspicious. The truth is, I still am. I didn't exactly want to throw gobs of money at an investment that I wasn't sure I was ever going to get back. Instead, I wanted to dabble and add a couple of dollars here and a couple of dollars there. That way, I could truly understand how the crypto market worked without going broke.
But before I could even invest a penny of my own money, I stumbled upon Coinbase Learning Rewards. Coinbase Learning Rewards gives you the chance to collect a little bit of many different cryptos as a reward for learning about them. For example, you can currently earn up to $3 in NEAR by taking part in a series of three one-minute long lessons.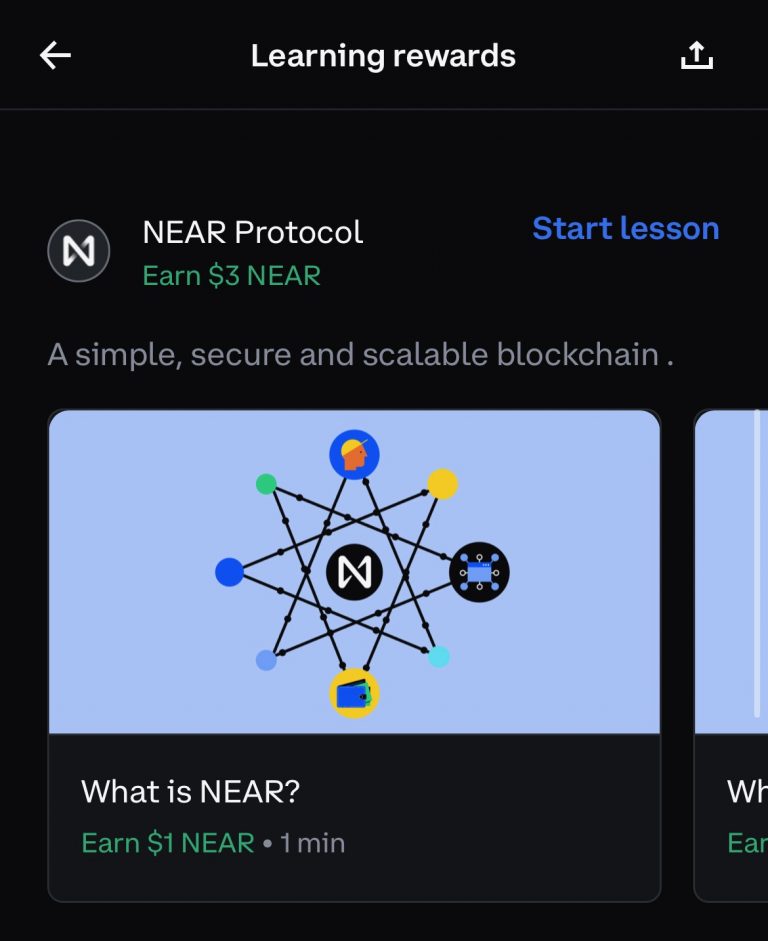 While each lesson is different, they typically involve a simple set of educational slides and a short quiz, like NEAR's first lesson: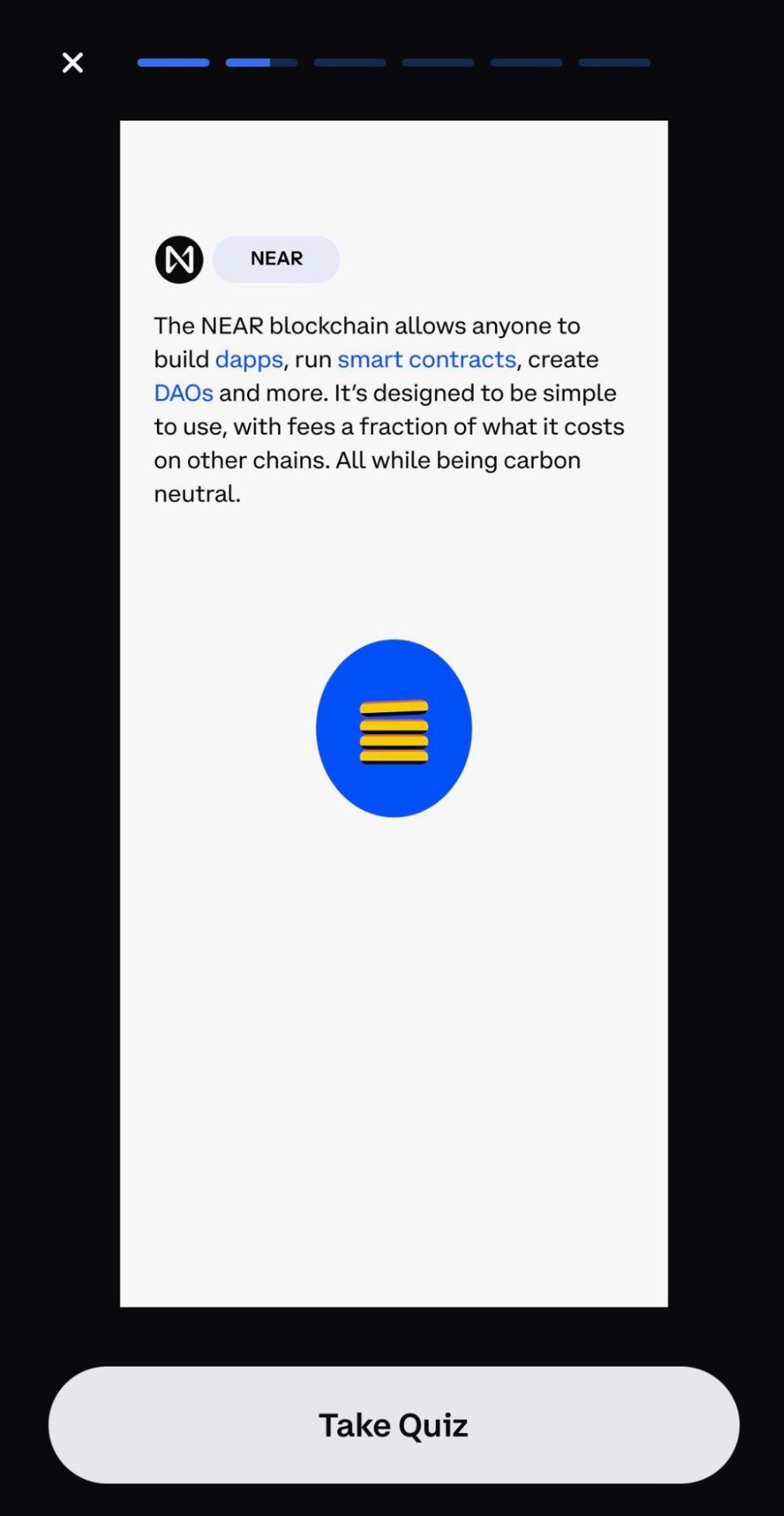 It's through Coinbase Learning Rewards that I've collected most of my crypto to date. And since each lesson is so simple, I'm able to earn crypto everywhere from my couch to the waiting room of my doctor's office. For those risk-averse investors like me, Coinbase Learning Center is a refreshing dip into the crypto market.
Invest in crypto without investing in crypto: How to invest in cryptocurrency without buying coins
Coinbase's news hub and Coinbase Bytes keeps me on top of the latest headlines
Crypto news changes faster than you can blink. At least that's how it felt before I started paying attention to the news featured on the Coinbase app. By simply scrolling down past your "Watchlist" and the "Top movers" on the Home tab of the app, you'll find article after article about the latest in crypto news.
Not only does Coinbase include its own content, but they also feature headlines from respected crypto authorities like CoinDesk, Blockworks, and Decrypt.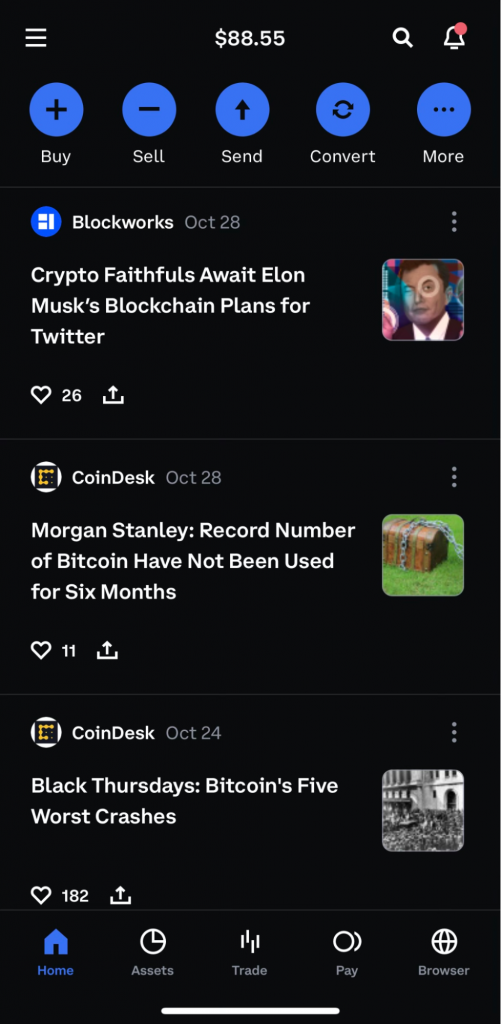 If you want to make sure you don't miss out on top crypto stories, you can also sign up for Coinbase Bytes. Coinbase Bytes is a weekly newsletter that sends you a roundup of the biggest news in crypto, and helps fill in the gaps during busy weeks that don't leave a lot of time for weeding through headlines.
Coinbase's Assets tab helps me understand how my crypto is performing
While I appreciate a lot of the educational features Coinbase offers, I am also a fan of how easy it is to buy, sell, and hold a wallet on Coinbase. The "Assets" tab on the Coinbase app shows me everything I need to know in one glance. It tells me what I'm really interested in right away, my balance, and the current price of all of the cryptos I own.
Right underneath this, it's easy to buy a new asset whenever I want to. It takes literally seconds. Plus, I can see any learning rewards options I have available to me.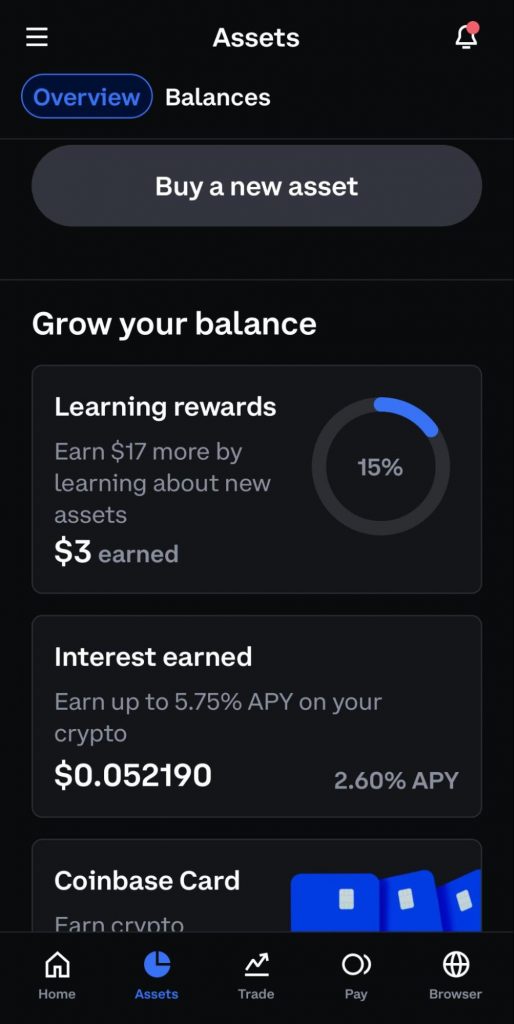 The takeaway: you can buy, sell, and learn (a lot!) with Coinbase
Coinbase likes to say they help run the "cryptoeconomy", and they really do. Serving over 100 countries and offering a platform to buy, sell, and store crypto, they're one of the biggest crypto platforms in the game. I like them for a simpler reason: their educational resources. Sure, I hold a very limited amount of crypto in a Coinbase wallet, but I check the app regularly to stay up with the news in the crypto world, and even to earn free crypto from time to time. What other app lets you do that?
Try Coinbase for yourself
Related reads: