Up to $1.5 million in coverage in minutes
Applying for a policy with Bestow takes only about 10 minutes. And once you've completed the application form, Bestow's algorithm will instantly tell you whether you qualify — and give you a final price.
Bestow offers policies in a full range of terms — 10, 15, 20, 25 or 30 years — with coverage from $50,000 to $1.5 million and policies starting as low as $16 a month.
As long as you qualify, you can get coverage right away. You won't have to talk to anyone on the phone, and you won't have to take a medical exam.
That means that in the span of around 10 minutes you can give your family financial protection after you're gone.
"I have peace of mind knowing my girls will be taken care of if anything terrible happens," says Blake, a Bestow customer. "The best part was no blood draws or doctors. Highly recommend!"
What people are saying about Bestow
Bestow currently has a rating of 4.8/5 on the review website Trustpilot. Here's what some reviewers are saying: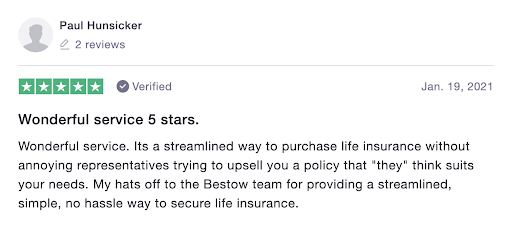 ---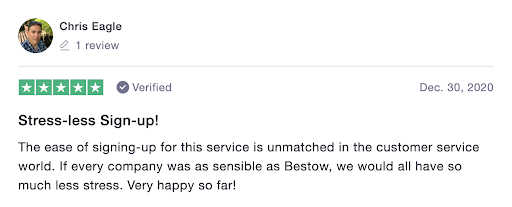 ---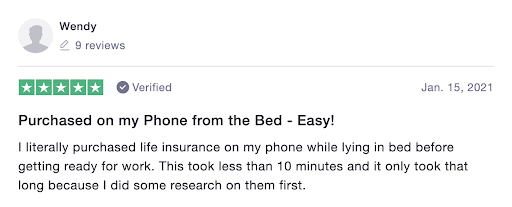 ---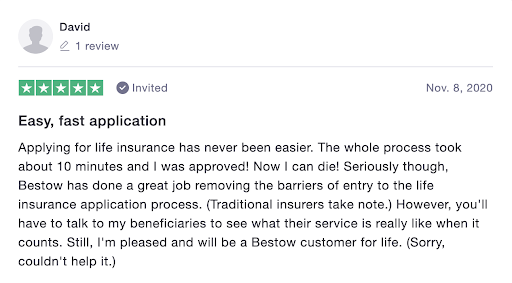 ---
Protect your family without the usual hassle
Bestow makes buying term life insurance simple and stress-free. In just minutes you can help ensure that your family will be protected no matter what happens.
Even if you're just curious, it only takes a few seconds to get a quote, and it won't cost you a dime.