What insurers consider when setting premiums
Some of the factors used to calculate your premiums are pretty obvious, like how much it would cost to replace or repair the car if it got in an accident. So, yes, that pricey and sophisticated Tesla will cost a fortune to insure.
Certain models are also, statistically speaking, more likely to get into a crash. A three-year-old minivan is probably driven by a responsible parent who would never risk the safety of their kids in the backseat. A brand-new sports car, not so much.
Of course, personal factors like your driving record, age and gender matter, too. Your ZIP code can play a role, if you live in an area with a high rate of theft.
And even though many people don't realize it, your credit score can actually drive up your premiums.
While some states don't allow insurance companies to use credit scores directly, insurers can still draw up an "insurance" score using data in your credit report.
Research suggests that people with debt, bankruptcies or a history of late payments are more likely to file insurance claims — so if your credit score isn't up to snuff, your insurance score won't be either.
More: Estimate monthly spends with car loan calculator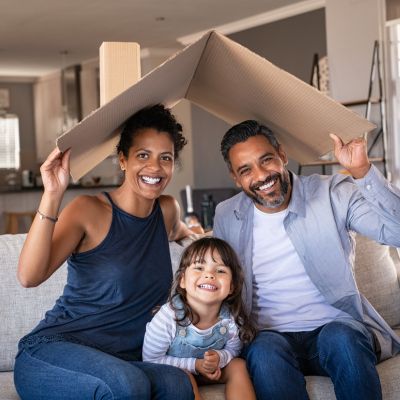 Home insurance is an essential expense – one that can often be pricey. You can lower your monthly recurring expenses by finding a more economical alternative for home insurance.
SmartFinancial can help you do just that. SmartFinancial's online marketplace of vetted lenders allows you to quickly shop around for rates from the country's top insurance companies, and ensure you're paying the lowest price possible for your home insurance.
Explore better rates
Why cheap cars don't always get the best rates
None of the above really explains why Larry gets a much better deal on insurance for his Pilot than Jim with his CR-V.
In many cases, the difference can be explained once a driver looks into their car's safety features.
For instance, the Honda CR-V — which ValuePenguin found to be one of the most affordable cars to insure — earned a Top Safety Pick designation from the Insurance Institute for Highway Safety this year.
If a car holds up better in a crash, causing less damage to the vehicle or the fragile humans inside, that can mean big savings for insurers. After all, a single serious injury can mean years of costly tests, drugs, therapy and surgery.
For that reason, a more expensive vehicle loaded with accident-avoidance and crash-safety features can give insurers the confidence to lower premiums.
That's not all. Some cheaper car models are more likely to be stolen. While missing anti-theft features can be a problem, crooks sometimes prefer to target cheap, common cars so they can use them for other crimes while remaining incognito.
Lastly, it's a lot easier to find replacement parts for cars that sold well. Undesirable clunkers are cheap to buy, but the insurer may have to pay a disproportionately high price for repairs.
How to find affordable insurance
When looking for a new car, savvy shoppers will want to investigate whether their top picks are statistically more likely to wind up in an accident and which safety features are included.
Rates also tend to decline as vehicles age, so buying a used or year-old car can get you your desired model while keeping expenses down.
But ultimately, the best way to save on an insurance policy is to shop around for the best rate. Each insurer weighs the factors that go into your premiums in different ways, so you'll find that prices can vary widely.
The Insurance Information Institute recommends comparing at least three different quotes before you settle on an offer.
Whether you drive a Honda or a Tesla, shopping around will ensure you'll always get the best price for your own insurance — regardless of what the guy down the street is paying.
Sponsored
Unexpected vet bills don't have to break the bank
Life with pets is unpredictable, but there are ways to prepare for the unexpected.
Embrace Pet Insurance offers coverage for treatment of accidents, illnesses, prescriptions drugs, emergency care and more.
Plus, their optional wellness plan covers things like routine vet trips, grooming and training costs, if you want to give your pet the all-star treatment while you protect your bank account.