Best bank for CD options
U.S. Bank
Founded in 1863


Headquartered in Minneapolis, MN


5th largest bank in the U.S.


$661 billion in assets


If you like the security and superior interest of a certificate of deposit (CD), U.S. Bank could be a good home for your money.
When it comes to ordinary deposit accounts, the U.S. Bank savings account isn't anything special. With a 0.01% APY and $4 monthly maintenance fee (which can be waived by meeting certain requirements), depositors can find better savings options elsewhere.
However, U.S. Bank does offer a variety of CDs that require an opening deposit as low as $500-$1,000.
In addition to traditional CDs with terms ranging from one to 60 months, U.S. Bank also offers a "step-up" CD that increases its interest rate every seven months for 28 months. It also offers a "trade up" CD that allows account holders a one-time opportunity to lock in a higher rate if interest rates increase during the term.
Pros
Thousands of branch and ATM locations
Several CD options
Cons
Not available in every state
Lower rates and higher fees on savings account
With more than 2,000 branches in 26 states and one of the largest ATM networks in the country, U.S. Bank is easily accessible to customers. Plus, it offers 24/7 phone service for banking customers.
And unlike many of its competitors, U.S. Bank has been recognized as one of the world's most ethical companies for eight consecutive years by the Ethisphere Institute. It was also named one of the top 50 companies for diversity by DiversityInc.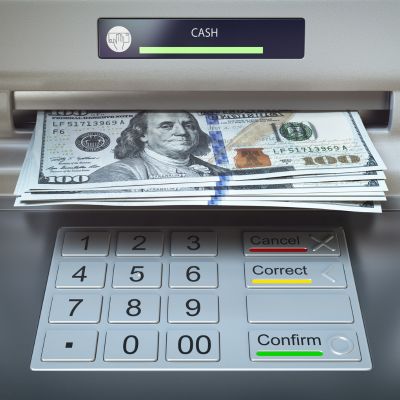 Don't let your money idle in low-interest accounts! Savvy savers are earning up to 10x more interest by keeping their hard-earned cash in a high-yield savings account. Find some of the best options here.
Get Started
Best bank for high-yield savings
Ally Bank
Founded in 2009


Headquartered in Sandy, UT


$187 billion in assets


While some banks offer a low rate on savings accounts, Ally Bank is not one of them.
Ally is an online-only bank. Since it requires little overhead to operate, the bank passes those savings down to customers in the form of higher rates and lower fees. Unlike certain competitors, Ally does not charge monthly maintenance fees or overdraft fees.
One of Ally's most notable products is its online savings account, which provides a competitive 3.30% APY (more than 10 times the national average) and has no minimum balance requirement. It also offers interest-bearing checking, a money market account and several CD options, as well as lending and brokerage divisions.
Pros
High savings account rates
No minimum balance requirements
No overdraft fees
Cons
No physical branches
Can't deposit cash
Ally Bank customers have free access to more than 43,000+ Allpoint ATMs across the U.S. and can receive a reimbursement of up to $10 per statement cycle for out-of-network ATM fees.
Ally has been named one of Money Magazine's top online banks nine out of the past 11 years.
Best bank for no-fee banking
Capital One
Founded in 1988


Headquartered in McLean, VA


$464.9 billion in total assets


9th largest U.S. bank in consumer deposits
Capital One is another online bank that provides a variety of services, from bank accounts to credit cards and other financing. Like Ally, it's known for its high yields and low fees.
In fact, it charges none of the typical fees you'd find at most banks, including zero fees for maintenance, ATM usage and overdrafts on approved transactions. There are also no minimum opening or account balance requirements.
Capital One offers a basic checking account and one that's designed for teens, as well as a savings account option for kids. It also offers a high-yield savings account and several CD options, with terms ranging from six to 60 months.
Pros
No fees
High-yield savings
Widespread ATM access
Cons
Limited branch locations
No money market accounts
Although there are few traditional branches, customers can access their money for free at more than 70,000 Capital One, Allpoint and MoneyPass ATMs. (Ally offers free access to just 43,000 ATMs.)
Plus, you can visit one of several Capital One Cafes around the country to use an ATM, speak with an ambassador about your accounts, receive free mentoring or simply relax. Capital One credit and debit cardholders receive 50% off beverages.
Capital One has received numerous awards. In 2022, it was recognized as one of Glassdoor's Best Places to Work, Fortune's World's Most Admired Companies and LinkedIn's Top Companies, among other accolades.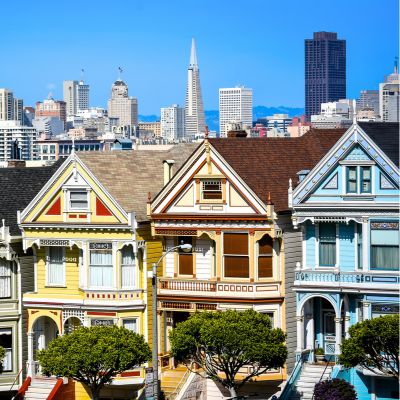 Believe it or not, you don't need millions, or even hundreds of thousands to invest in real estate. Arrived is an online platform where you can invest in shares of rental homes and vacation rentals without the headaches of being a landlord.
Learn More
Best bank for convenient branch hours
TD Bank
Founded in 1855


Headquartered in Toronto, Canada



$1.9 trillion CAD in assets
Want a bank that's open early or late? TD Bank may be just what you're looking for.
Though it's Canada-based, TD Bank also has a large presence in the U.S. It offers a variety of banking services, including checking, savings, credit cards, personal loans and more.
TD Bank bills itself as "America's most convenient bank," offering long hours and branch access on Sundays, which is uncommon.
The downside is that TD Bank only operates in certain states: Connecticut, Delaware, Florida, Maine, Maryland, Massachusetts, New Hampshire, New Jersey, New York, North Carolina, Pennsylvania, Rhode Island, South Carolina, Vermont, Virginia and Washington, D.C. So you won't be able to visit a branch or ATM if you live outside the Eastern U.S.
Pros
Long branch hours
Branches open on Sundays
Cons
Not located in all states
Low deposit yields
Free checking comes with minimum balance requirement
As far as account options, TD Bank has fairly standard offerings. However, it does have many checking account options.
For example, its Convenience Checking account requires a $15 monthly fee, which can be waived by maintaining a balance of just $100 (or if you're a young adult between the ages of 17 and 23).
The Beyond Checking account comes with more perks, such as no ATM fees and overdraft reimbursement, as well as a higher monthly fee of $25 that can also be waived by meeting certain requirements.
For a limited time, new checking customers can earn a $300 bonus.
TD Bank also offers savings, money market and CD accounts, though APYs are quite low compared to other banks.
Best bank for holistic financial management
PNC
Founded in 1852


Headquartered in Pittsburgh, PA



$552 billion in assets
If you're interested in managing your money in one place, PNC is worth considering. Short for Pittsburgh National Bank, PNC is one of the largest banks in the country thanks to a series of mergers and acquisitions.
It offers a variety of banking services, including checking, savings, credit cards, investments and several lending options.
Notably, PNC offers a product known as the Virtual Wallet, which bundles three accounts — dubbed Spend, Reserve and Growth — along with financial management tools to help customers conveniently manage their money.
PNC's checking account (Spend) comes in three tiers, with a monthly maintenance fee ranging from $7 to $25. This fee can be waived by meeting certain requirements. There is no minimum amount required to open online.
Pros
Helpful money management tools
Thousands of branch and ATM locations
24-hour grace period for overdrafts
Cons
More fees and lower rates than other banks
High-yield savings not available in all locations
PNC will also reimburse some ATM fees or waive them completely, depending on the checking tier. There are more than 2,600 branches and 60,000 PNC and partner ATM locations across the country.
Currently, new PNC customers can earn a cash bonus when opening and using a new Virtual Wallet product.
Best bank for checking account options
Axos Bank
Founded in 2000


Headquartered in San Diego, CA



$20.3 billion in assets
Want to open a new checking account but unsure which to choose? You've got options with Axos Bank.
Formerly known as Bank of Internet USA, Axos (which adopted its new name in 2018) offers a host of services, from deposit accounts to mortgages.
One of the benefits of banking with Axos is its variety of checking accounts to suit just about any customer.
Its Essential checking account is no-frills compared to higher tiers, but still comes with perks such as no monthly maintenance fees, no overdraft fees, no minimum balance requirement, unlimited domestic ATM fee reimbursement and early direct deposit.
The Axos Rewards checking account offers similar benefits, as well as up to 1.25% APY on your balance, while the Cashback checking account provides 1% back on debit purchases.
Pros
Several checking account options
High-yield deposit accounts
Low fees
Cons
No physical branches
Low CD rates
There is also a First checking account designed for kids, which comes with no fees and a daily transaction limit to give parents peace of mind, and a Golden checking account for seniors that is also fee-free.
Axos also offers a high-yield savings account that earns up to 0.61% APY, as well as a high-yield money market account that earns 0.25% APY.
Best bank for free ATM network
TIAA Bank
Founded in 1918


Headquartered in Jacksonville, FL



$1.2 trillion in assets
TIAA, founded more than a century ago, has grown into a Fortune 100 company that boasts high yields on all its deposit products.
The rates on most of its deposit accounts are fairly competitive for the current market. A basic one-year CD, for example, currently earns 4.30% APY. There is a $1,000 minimum deposit, and CDs automatically renew at maturity. Other terms are available, from three months (0.90% APY) to five years (2.85% APY).
TIAA Bank also offers a 3.5-year "bump rate" CD that lets you increase the interest rate once during the term.
As for other savings options, customers may choose a Basic savings account that earns 3.50% APY and comes with no monthly fee and requires just $25 to open.
There is also a money market account that earns 3.35% APY on all balance tiers, has no monthly fee, requires $500 to open and comes with a "yield pledge" that guarantees high yields.
The high-yield checking account earns 0.25% APY , requires just $100 to open and has no monthly fee.
Pros
More than 80,000 fee-free ATMs
High deposit account interest rates
No monthly account maintenance fees
Cons
Limited branches located in Florida only
Aside from its fairly high yields, one of the most impressive features about TIAA Bank is its large ATM network of more than 80,000 locations. These ATMs are free to use — TIAA doesn't charge ATM fees for its own branded ATMs, or ATMs in the MoneyPass and Allpoint networks.
It also automatically reimburses up to $15 for any out-of-network ATM fees incurred each month, regardless of your account balance. If you carry a minimum average daily balance of $5,000, ATM fee reimbursements are unlimited.
Best bank for service members
USAA Federal Savings Bank
Founded in 1922


Headquartered in San Antonio, TX



$110.8 billion in assets
USAA is a membership-based bank designed to meet the needs of military members, veterans and their families. In addition to insurance, investing and retirement planning services, USAA also provides bank accounts that customers can access from just about anywhere.
USAA's basic checking account requires just $25 to open and doesn't charge monthly maintenance fees. You can also receive your paychecks a day early if you sign up for direct deposit. Balances over $1,000 earn interest, though the rate is far from competitive at 0.01% APY.
Similarly, USAA's savings account requires just $25 to open. Balances of $10,000 or more in the Performance First savings account receive a slightly higher rate of 0.10% APY.
USAA's CD rates are currently in the 3% range from 3.61% to 3.71% APY for fixed terms.
Pros
No fees or balance requirements for basic accounts
Fee-free ATMs + out-of-network reimbursements
Cons
Low deposit rates
Few branch locations
USAA customers get access to more than 60,000 preferred ATMs nationwide. Making withdrawals from USAA ATMs is free, and the bank will reimburse up to $15 in out-of-network ATM fees per monthly statement cycle.
Best bank for overall accessibility
Chase
Founded in 1799



Headquartered in New York, NY




$2.6 trillion in assets
Chase is the largest bank in the country based on total assets. In fact, it serves nearly half of U.S. households with a broad range of products.
Like most major national banks, its deposit rates aren't impressive, hovering at near zero. Still, Chase makes it fairly easy to avoid checking account fees. For instance, the $12 monthly maintenance fee can be waived by direct depositing at least $500 per month.
Chase Overdraft Assist means you won't pay an overdraft fee if you've overdrawn by $50 or less. And non-Chase ATM fees are waived for Chase Premier Plus checking account holders — up to four times per statement period.
Pros
Robust digital experience
Convenient branch and ATM locations
Cons
Low deposit rates
More fees than other banks
What's more impressive about Chase Bank is its mobile app, which allows customers to easily manage their finances from home (or anywhere).
You can check account activity, deposit checks, send and receive money via Zelle, get spending and budgeting insights, see your credit score, locate ATMs and speak with a representative 24/7. While other banks on our list offer mobile apps with similar features, 24/7 access to customer service is uncommon.
Chase customers also have access to more than 16,000 ATMs and 4,700 branches across the country, making it easy to perform in-person banking tasks when necessary.
Best bank for global presence
Citibank
Founded in 1812


Headquartered in New York, NY


$1.02 tillion in assets (Citigroup)
Part of the financial services corporation Citigroup, Citibank is the consumer division offering a number of banking, lending and investment products.
Citibank offers several checking account options, from a Basic account that costs $12 a month to a Priority tier that's $30 per month. Monthly maintenance fees can be waived by meeting certain requirements, which vary depending on the account.
Citibank has eliminated fees for overdrafts, non-sufficient funds and overdraft protection transfers. Currently, new checking customers for the Priority tier can earn a bonus of up to $2,000 depending on the minimum deposit.
The bank has decent CD accounts as well, ranging in terms from three months to five years. The highest-rate CD available has a 12-month fixed term with a 4.15% APY.
Pros
Thousands of international branches
Significant checking account bonus
No overdraft fees
Cons
Low deposit rates
Limited domestic branch locations
With fewer than 600 U.S. branches, Citibank lacks nationwide locations compared to similar banks of its size. However, customers who travel often will appreciate that globally, Citibank has over 20,000 fee-free ATMs and 4,000 branches in 42 countries.
5 biggest banks in America
These are the top five largest banks in America based on total domestic assets, according to latest data from the Federal Reserve.
Rank
Bank
Total assets (domestic)
1
JPMorgan Chase
$2.63 trillion
2
Bank of America
$2.32 trillion
3
Citibank
$1.03 trillion
4
Wells Fargo
$1.64 trillion
5
U.S. Bank
$660.8 billion
5 most popular banks in America
Sometimes we end up choosing a bank based simply on a friend or family member's recommendation. Here are the top consumer banks by popularity, according to YouGov survey data. Popularity is the percentage of people who view something positive about a consumer bank.
Rank
Bank
Popularity
1
JPMorgan Chase
53%
2
CapitalOne Bank
51%
3
Citibank
45%
4 (tie)
Bank of America
41%
4 (tie)
Wells Fargo
41%
Sponsored
A High-Yield Savings Account Is The Easiest Way To Make Passive Income In 2023
High-yield savings accounts are a great way to generate high interest and inflation-proof your savings over time. This option ensures your cash is at the ready when you need it, without forfeiting growth to do so.
You could earn 10x more interest by keeping your hard-earned cash in a high-yield savings account. Find some of the best options here.