We adhere to strict standards of editorial integrity to help you make decisions with confidence. Please be aware that some of the products and services linked in this article are from our sponsors.
In some places, you have to try harder if you want to make money as an Airbnb host. That's especially true with rentals near major theme parks.
After all, you're competing with other hosts, hundreds of hotels and the parks themselves. A boring old bedroom may not cut it for a kid who has just spent a day at Disney or Universal Studios.
These Airbnb hosts in central Florida and other theme park capitals have met the challenge! Check out 10 amazing rooms that transport kids inside their favorite movies for a night they'll never forget.
1. The magic of Harry Potter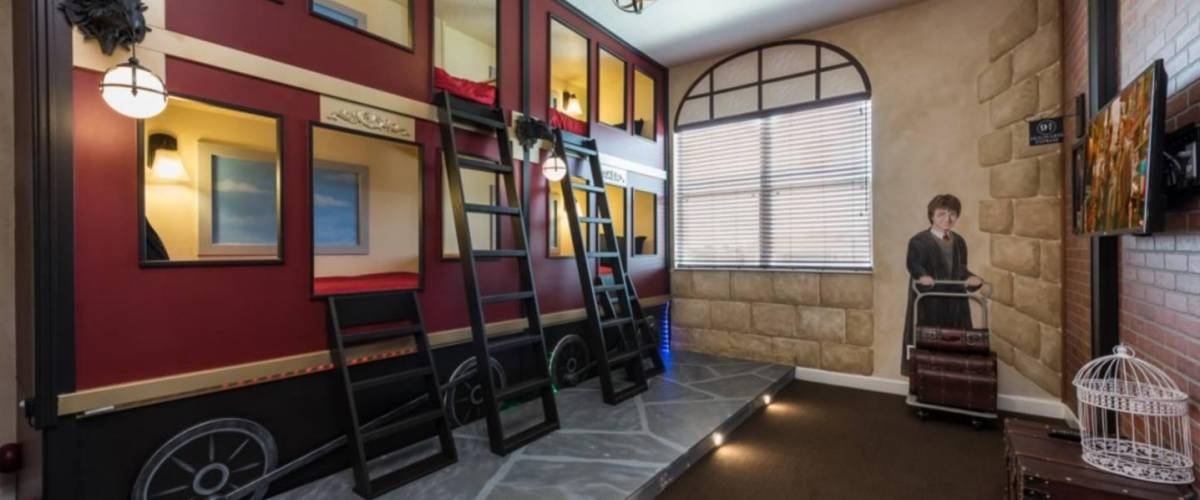 Kids can sleep on the Hogwarts Express in these cool Harry Potter bunks in Orlando, Florida, just a 12-minute drive from Walt Disney World.
The home also features a second room for kids that's decorated with a Finding Nemo / Little Mermaid theme. Plus, there's a blacklight Star Wars game room with air hockey and arcade games.
2. Bunk on the Millennium Falcon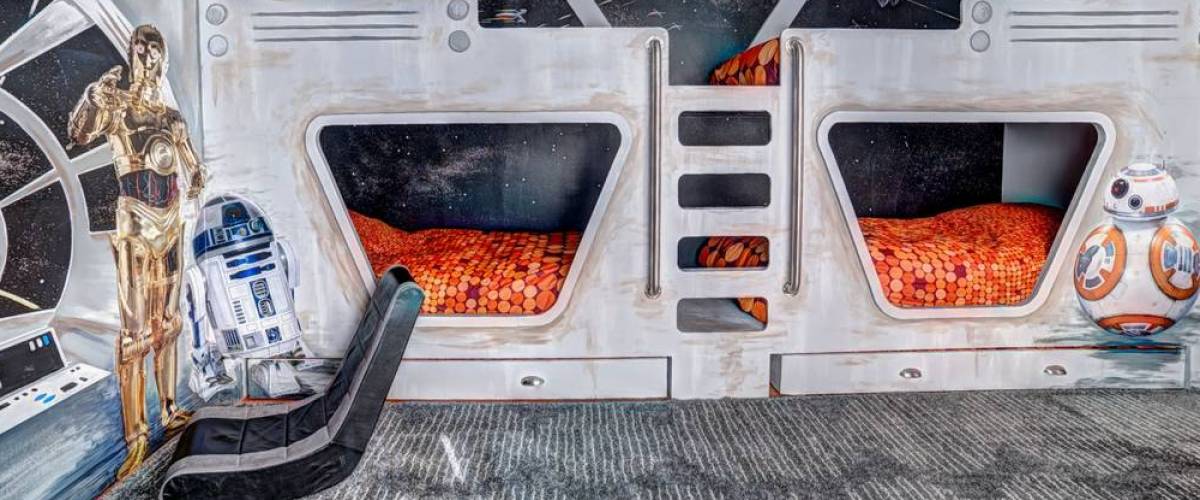 If you can't imagine your kids getting excited about bedtime, then wait 'til they see these one-of-a-kind Millennium Falcon-themed bunk bed in a six-bedroom Airbnb home in Anaheim, California.
Less than 3 miles from Disneyland, this place features luxurious bedrooms for adults, a heated pool and a game room that everyone can enjoy.
Want to do something fantastic with your spare space? Start hosting on Airbnb today.
3. A Moana escape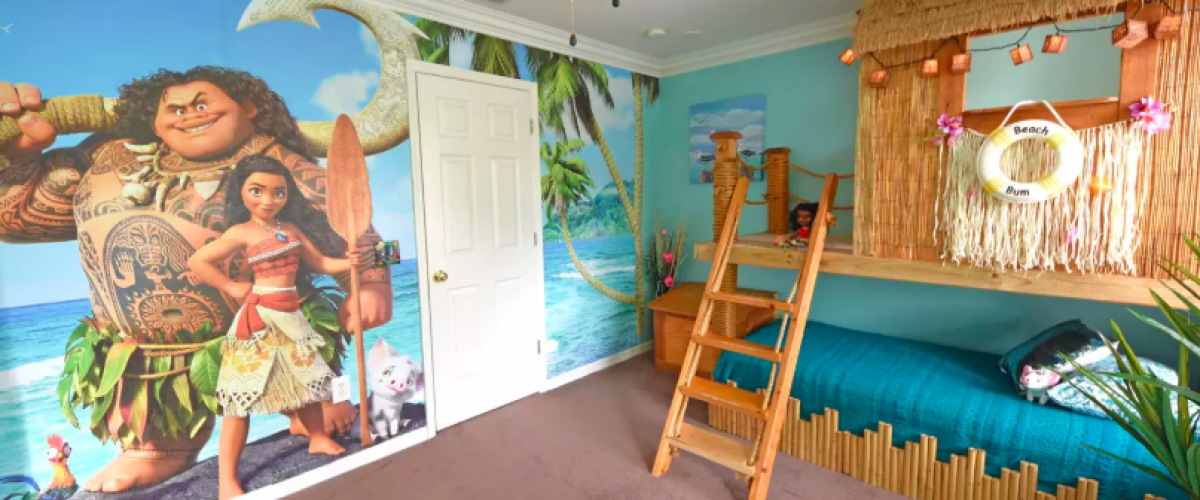 Just minutes from Disney World, a luxury eight-bedroom villa that calls itself a "Happily Ever After Playhouse" features this Moana-themed room.
Kids also can enjoy a Star Wars room, and adults will bask in the comforts of classic Belle and Cinderella-themed suites.
There's even a Harry Potter theater room and more toys, dress-up costumes, movies and games than any family could hope for.
4. Chill with friends from Frozen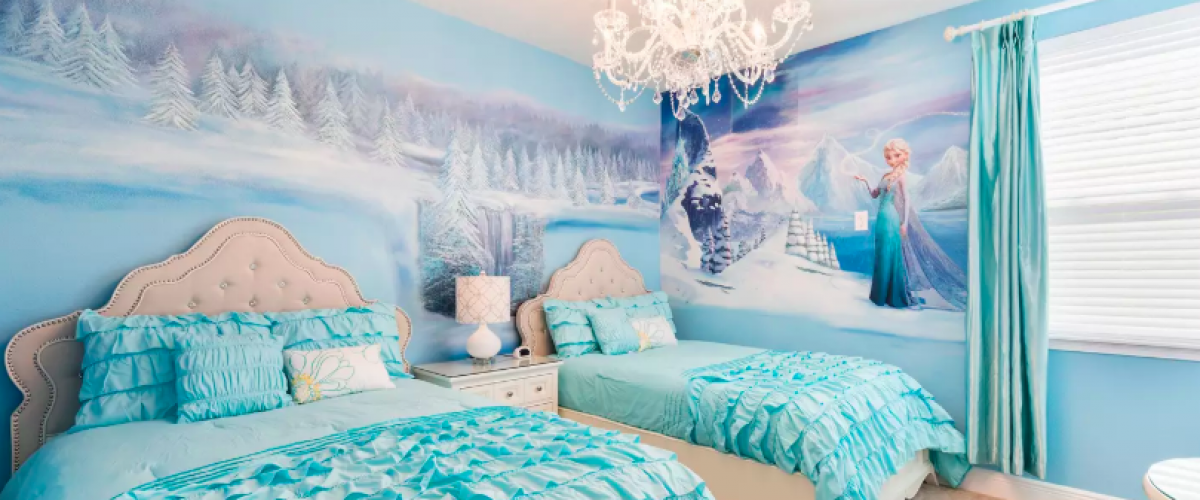 Why go to a bland hotel after a day at your favorite Orlando theme park when your kids can hang out with Elsa in this fun Frozen bedroom?
The six-bedroom, six-bathroom vacation home also comes with a community water park and private pool. This rental is located just 10-15 minutes' drive from Walt Disney World, Universal Studios or Sea World.
5. Catch 'em all at a Pokemon palace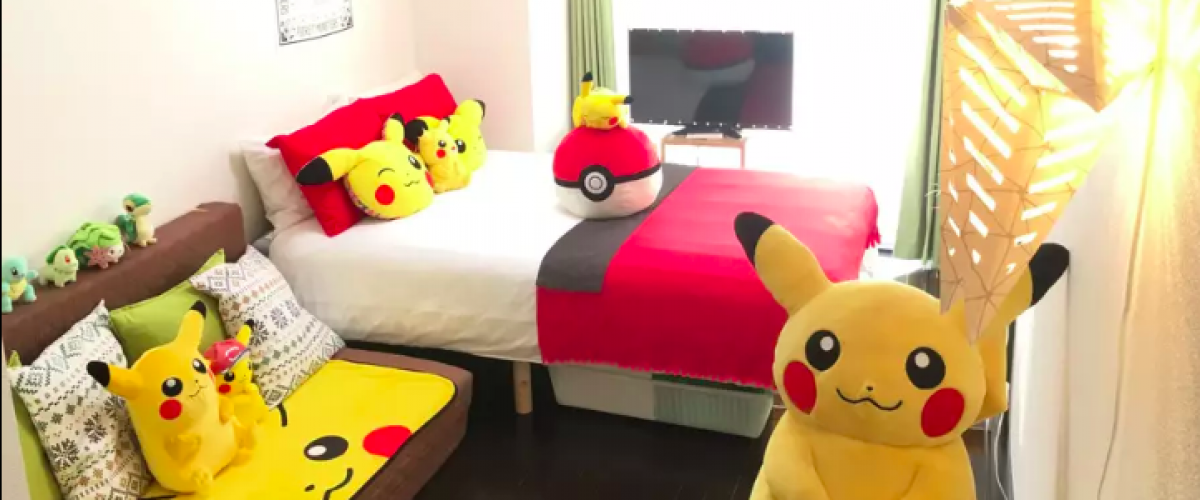 If you ever find yourself in Tokyo, help your kids feel right at home in this Pokemon-themed room! They'll enjoy a huge collection of Pokemon memorabilia as well as a Mini Nintendo family game system.
The apartment's location is great for sightseeing and is about a 35-minute commute to Tokyo Disneyland.
6. Bring out their inner superheroes!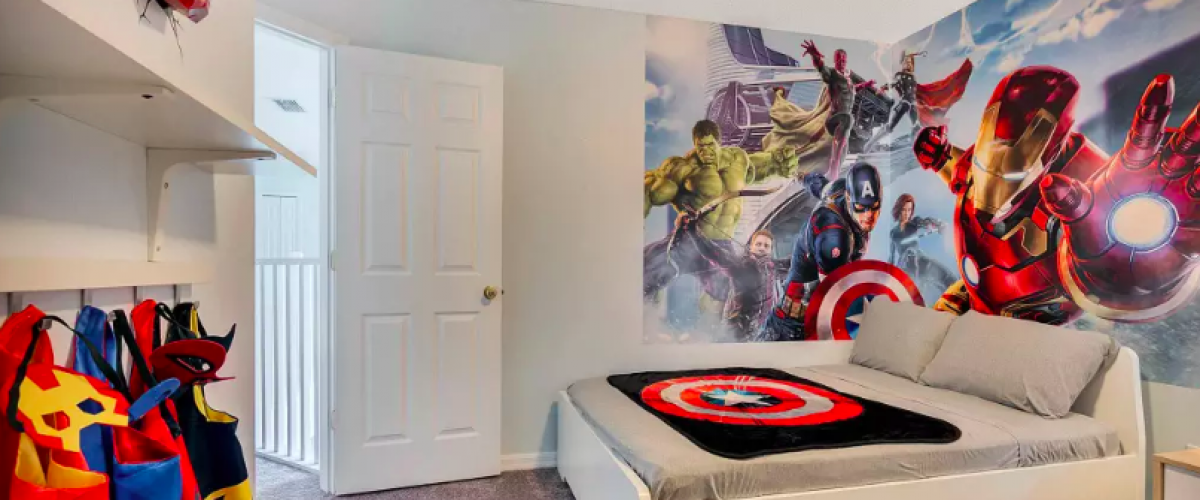 If you're looking for an Orlando getaway for a large group, then you'll never beat the value of this seven-bedroom fantasy villa that comes with a superhero-themed room. It's complete with tons of cool dress-up costumes.
Just minutes from Disney World and other Orlando attractions, this house also has four other themed rooms kids will love, decked out in Harry Potter, Star Wars, Frozen, and Minions decor.
7. Ultimate Mickey Mouse house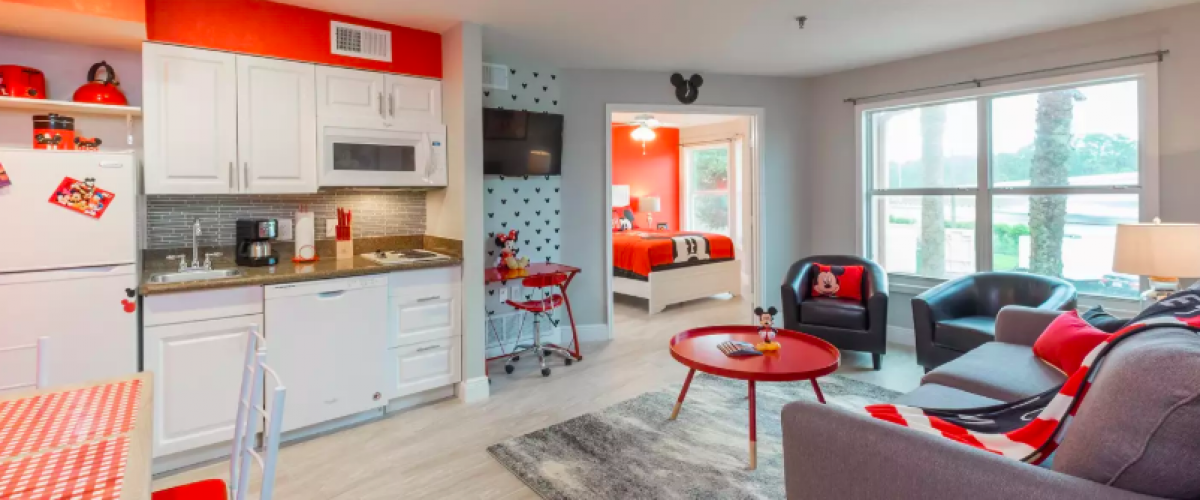 If you're a classic Disney fan, then check out this suite where you don't have to leave Mickey at the park.
From the themed bedroom to the colorful kitchen, you can eat, sleep and breathe Mickey and Minnie from dawn 'til dusk.
Located just 1.5 miles from Walt Disney World and close to tons of restaurants and shops, this place is the next best thing to staying in toon town.
8. Wake up in Pandora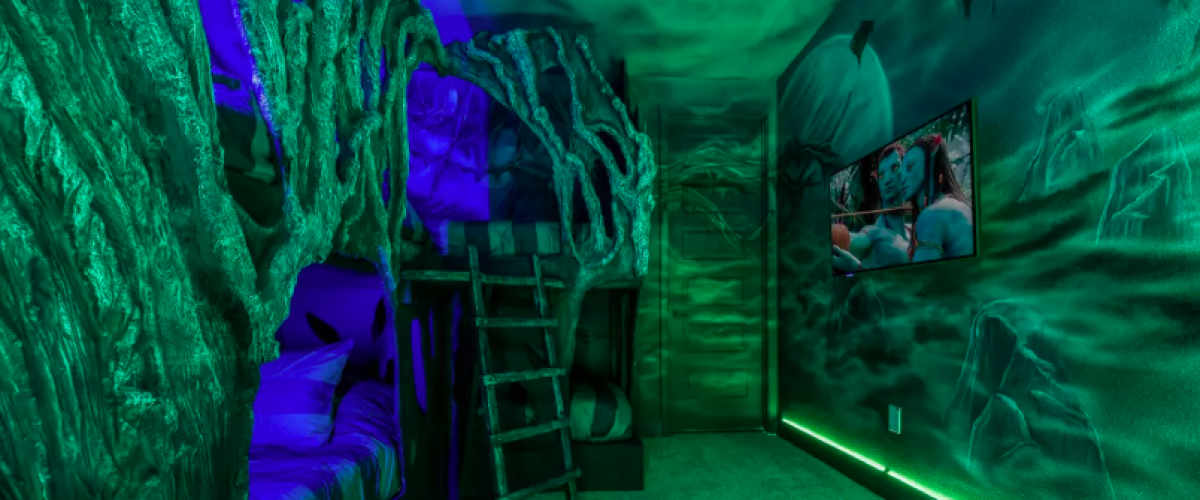 The only problem with this Avatar room is that it's so cool, you may be tempted to steal it from your kids and sleep in it yourself. It's in a six-bedroom Florida resort villa, conveniently located just 10 minutes from Disney.
In addition to this awesome Avatar room, there's also a beautiful Disney princess-themed room, plus a private pool and barbecue. Each of the six bedrooms even comes with its own flat-screen TV.
9. Mingle with the Minions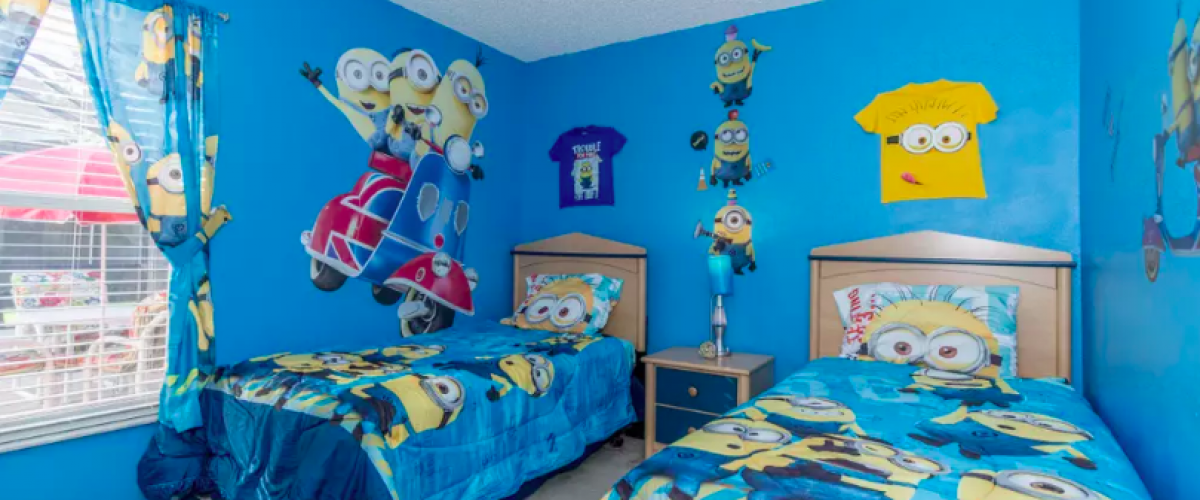 You'll find this Minions-themed room plus a Disney Princess room for young royals in training at a four-bedroom home just 3 miles from Walt Disney World.
The house sleeps up to 10 guests and also features its own game room, private pool and hot tub.
10. Lounge like a Lion King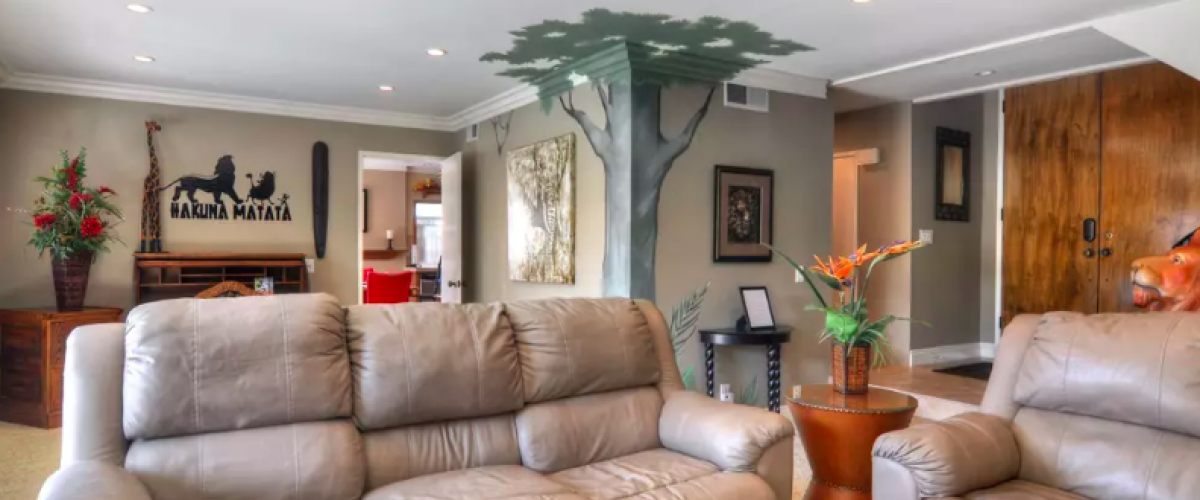 Spend your evenings watching beautiful California sunsets in this spacious Lion King-themed living room which includes a life-sized lion statue.
At this house in Anaheim, just 1.6 miles from Disneyland, the kiddos also will love the uniquely themed kids' rooms featuring decor from Toy Story, Finding Nemo and Pirates of the Caribbean.
Got extra space in your home? Put it to work on Airbnb.
Follow us on Twitter: @moneywisecom